| | |
| --- | --- |
| | Paying full price for your firearms! |
Learn how to get your own Federal Firearms License (FFL) so that you can purchase firearms legally at wholesale prices!
You Could Save Hu
ndre
ds of Dollars, as in these examples below!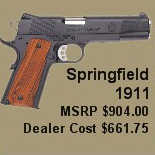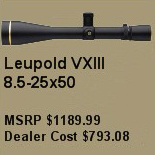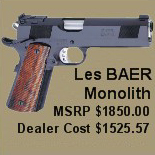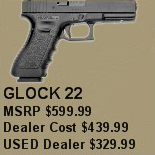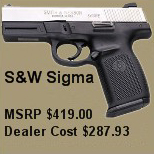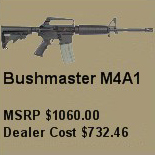 What You Need to Know:
There is a maze of paperwork involved. It's not hard, but be prepared to spend a lot of time learning what you need to do and how to do it if you don't have someone that can help you.

Getting your FFL is not free. The fee for a Type 1 Dealer License is $200 for the first 3 years. After that, it costs you $90 for each additional 3 years.

Your application will take a minimum of 6 weeks to process, and typically takes between 8 and 12 weeks (if you've filled out everything correctly!)

In spite what some may tell you, it IS possible to obtain a license and work out of your own HOME, but you must gain an understanding of the Federal, State, and Local laws and ordnances which govern this.

Once you obtain your FFL, there are certain simple reporting and record-keeping requirements that you MUST follow in order to keep your license and stay out of trouble with the BATF.
If you want help, there is only one company on the internet that you should trust to guide you through the process, FFLKIT.COM.
What They Offer:
They provide you with everything you need to complete your application and comply with the BATF's record-keeping requirements in a single kit with easy to follow, step-by-step instructions. Here's what you get:
A Quick Start Guide, with step by step instructions for completing the application.

A detailed instructional Guide, updated for 2007, with everything you need to know.

Application with instructions - 2 yellow forms, 1 white form

Detailed analysis of the Laws Governing Gun Dealers in the U.S., including copies of relevant statutes, regulations, and BATF interpretations. An actual ATF Book will be sent Covering all 50 states.

NEW ATF How-To Guides that walk you through transactions and various scenarios you will encounter as a FFL Holder.

A BATF Approved Acquisitions & Dispositions Book to log your gun sales and comply with BATF regulations.

A How-To Guide devoted to Day to Day Operational Issues, including a Summary of Record Keeping Requirements, and current copies of relevant forms, where available.

A list of favorite wholesalers - this alone is worth more than the cost of the kit!

Full Access to our FFL Applicant Mega Site, an Internet site dedicated to providing you with links to every important piece of information on the Internet related to becoming or doing business as a gun dealer in the United States.

Free Access to our FFL Bulletin Board to discuss FFL Issues, exchange information about wholesalers and several other topics including an FFL Help Q&A Section.

AND NOT OFFERED ELSEWHERE, Access to GUNSMITH Information Section. Save hundreds, even thousands on parts. Learn what schools are worth attending and which are just going to take you for a ride!

A list of firearms that qualify as Curios or Relics.

The required yellow BATF Wall Sign. (Easy to forget but this one can burn you if you don't comply!)

A comprehensive file for BATF field offices, including phone numbers. You will need this.

A direct link to the BATF website firearms section.

Information about how to build your own online business:

Secure server hosting information so you can take credit cards.

Software to allow you to accept checks via fax, phone, or online - a $30 value!

Exclusive merchant account information for credit card acceptance.

Free Direct Order Link to receive Hard copies of books from the ATF.

New NICS FBI Info Not Included Elsewhere

Added Detailed C&R Licensing Requirements. If you cannot get your FFL we show you how to get a C&R License from the ATF.
Why FFLKit.com?
1. They are a licensed FFL dealer themselves and have walked countless others through the process. (Most others selling FFL kits don't even have an FFL!)
2. They provide on-going help and support after your purchase, to guide you through every step of the process.
3. They provide you with extra tools that make complying with BATF regulations a piece of cake.
4. They offer free bonuses, such as software that allows you to easily track and document your personal gun collection.
So... How Much Is This Going To Cost?

The folks at FFLKit.com offer two kits, the basic and the ultimate. The Basic Kit sells for $19.49 and includes everything you need to get your license. I guarantee you that the time you save just with the step by step instructions will be worth $20 bucks, not to mention the access to the forum, the list of gun wholesalers, and the free bonuses.

Their Ultimate Kit is intended for those really serious about selling firearms as well. It includes everything the basic kit does, plus some really nifty software that helps you keep track of your sales, as required by the BATF. The ultimate kit retails for $49.99 and is really worth it for those considering getting their license for more than just personal use. If you decide later that you want the software, you'll have to shell out another $49.99. So if you think you will eventually be selling some firearms, you should purchase the Ultimate Kit now and safe yourself some money.